---
Posts: 181
Joined: Tue Jul 13, 2010 8:19 pm
Type of boat I like: SUP hybrid kayak
Location: Center Point, Tx
And my wood shop!!! Its not done yet but its getting there.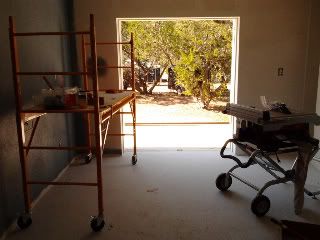 Got a new table saw. Haven't even used it yet.
And a new mega drill press.
---
---
Posts: 181
Joined: Tue Jul 13, 2010 8:19 pm
Type of boat I like: SUP hybrid kayak
Location: Center Point, Tx
More picks later but first I have to go to the bathroom
---
Posts: 400
Joined: Fri Jul 18, 2008 10:12 am
Type of boat I like: <-- Please read instructions to the left and delete this text. Then, tell us what type boat you like! :-)
Location: Seaford, South Oz
Looks fantastic Neon. I hope you get a lot of enjoyment out of it - despite the fact that I'm extremely jealous
.
Just make an effort to go back in the house occasionally so the family don't forget what you look like
.
Cheers, Bob

Laker 13 - christened and slimed (just).
Laker accessories underway.
---
Site Admin
Posts: 4898
Joined: Fri Jun 18, 2004 8:14 pm
Type of boat I like: Wooden
Location: Greensboro, NC
Contact:
Ok, I officially hate you.
Look at all that room and new toys!
-Matt. Designer.
---
Posts: 181
Joined: Tue Jul 13, 2010 8:19 pm
Type of boat I like: SUP hybrid kayak
Location: Center Point, Tx
OnkaBob, thanks for the compliment. My dad recently retired and this is his dream shop, its bigger than his house by a few feet! He has worked hard all his life to get to this point and he deserves it. So I am trying to make it the best that it can be. Oh, and if the family wants to spend time with us. They will have to come out to the shop!
Matt, I'm sorry you hate me
But think of all the cool stuff I can build when its done!
Here is the progress from today.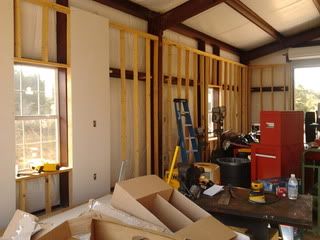 All the drywall is up! All 65 sheets of it. That was alot of work. Lots more work to do. But I can see the light at the end of the tunnel.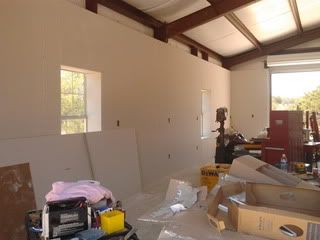 ---
I'm SOOOOO jealous of your space. Hell if I had something like that I'd be quitting my job and going into the Boat business. Just add a fridgem for the beer, er refreshments. and I'd be set.

Cheers.
A rough day on the water beats any day at work
---
Posts: 126
Joined: Wed Nov 03, 2010 7:12 am
Type of boat I like: plywood kayaks
Location: KC.MO.
Contact:
With all that I'm sure it has AC....
smack in the middle of flat dry Txs..
---
Posts: 205
Joined: Tue Jan 05, 2010 8:56 pm
Type of boat I like: Okwata kayak
Location: South Coast NSW Australia
Fantastic, I'm drooling.
The good news is, that my wife has said that I can have one just like it.
That is , after I build the extensions with a new living room and rear deck and awning, and replace and extend the front deck, build two built in wardrobes, carpet the bedrooms, fit a bathroom and tiolet downstairs, re-roof and repaint the house.
I just hope that I am not too old to enjoy it.
Cheers
Roger
Okwata LC,
Northwind,
Quetico
---